So here's a big step for me. I decided to enter the Block Party contest over at
Quiltstory
.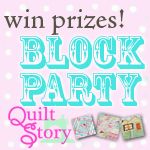 The categories are
traditional, modern
and
creative.
And I think that was the hardest part...deciding which category my blocks fit in.
My first is this aqua, red and white "Whirling Star" block. The pattern was from the book Block by Block by Beth Donaldson but I used that awesome Bliss Fabric and thought it was perfect ... reminded me of a peppermint candy. I think the pattern is pretty traditional-combination of pinwheel and star but the fabric is modern. Still, I'm going with the
traditional
category.
And my second is this pink, chocolate and white "Dutch Pinwheel" block. I saw the pattern and instructions on this
post
at Quiltstory back in August, in a quilt shared by Twin Fibers. I love pinwheels and thought this was an interesting modification...looks like a windmill. As I've shared before here (in fact just yesterday), the fabric is from a charm pack I couldn't resist buying and think it's perfect for Valentine's day. Again, the pattern is traditional but the fabric is kind of retro modern. Still, I'm going with the
traditional
category for this one as well based on block pattern.
So there you have it! My entries for the Block Party. Can't wait to see the others too. Long week of school ahead then a whole week off for President's Days. Happy sewing!