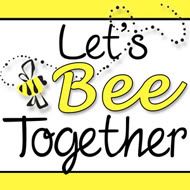 As if...I don't have enough trouble keeping up with my ongoing quilting projects...I decided to join an online Bee, uh AND a Block Swap. I've only been quilting for a few years. And I've only been a blogger for a few months. But this is just the sort of thing I'd been looking for for a long time. It's so great to have a place to go to meet people who share my love of quilting and to learn and get better at my craft.
I have to admit, I was a bit hesitant to join. You know, sometimes it's hard for me to branch out and try something new. But I've met some really awesome people, fellow quilters, and one of them is Linda from Stray Stitches. She started these blogs and is super friendly.
So, maybe you're new and hesitant too? Just try it! And remember you're not alone. Just click the picture to find out more info and how to join. We need a few more people for each one, the swap and the bee. Hope to see you there.